I would like to begin this page by defining "Journey Magic", Journey Magic is when unexplainable events occur before, after, and during a Journey Concert.
You are not going to believe this, the most recent documented and witnessed account of Journey Magic occurred on May 16, 2003 at the Journey concert (photo to the right). Myself, my wife, Maria, our children, Randy, Alyssa, Benjamin, and our best friends Richard with Betsy, were seated in section 209 row 13 at the San Jose Arena (aka HP Pavilion). Which is about 4 rows from the back of the arena, almost the last row.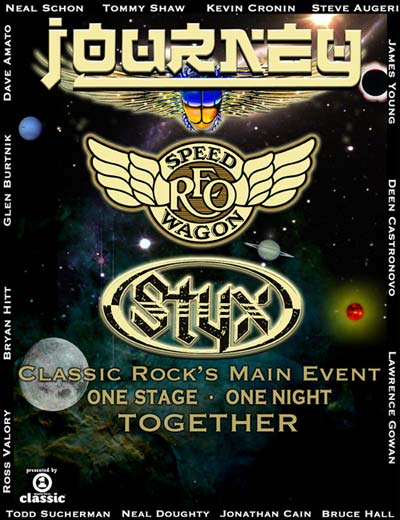 Styx just came on stage, and was Rockin with "Too Much Time On Your Hands", when two USHERS climbed all the way up to us, in Blue Dress Coats and Ties, and with headphones with attached Microphones. They spoke to Richard first, who as at the end of the row. Then the Usher climbed over to me, I am at the far end of the row. PAUSE in the story.
At this point, Maria was thinking, Oh, Know what have we done now.........Perez's can get rowdy at times, standing up for our principles.....etc. Are they going to kick us out? We just got here? The Concert Just started? Where is Randy? What did Randy do Now? (Randy had left to the bathroom).
Joey is thinking, maaan, these Ushers are going to ruin the concert? Where did Rich buy these tickets? Scalped? Can't be, there is no one else sitting up here in the boonies of the arena?
STORY resumes, the Usher asks me, "Are you the one in charge"?. I answered in my Dad, tough Voice, "Yeah, I am the one in Charge, what do you want?

The Usher says, "We need 7 people?. I answer, "For What!" . Usher, to move down to the Concert floor. PAUSE in the story.
Joey is thinking, NO F@#$%$# WAY!!!!!, this dude is tripping, who cares, just go for it. Hey, how does he know we are a group of 7?????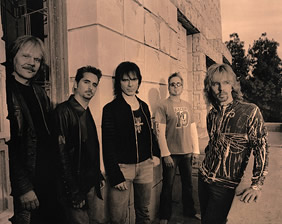 Joey turns to the usher and says, Yes, we'll go but, my son is at the bathroom (Joey is thinking Randy is going to blow it for us, because he is not here). The usher says that is OK, we can escort you down to the floor. We all start to get up and follow the Usher. Maria turns to Joey, and asks, "What is going on?. Joey Answers, "They want to move us down there, where the "Sharks Sit, (Hockey team). "We have to go now, I'll explain later, TRUST Me.
We get down to the Main Level, where Joey and the Usher named Paul, wait for Randy to return. Meanwhile everyone is getting escorted down to our new seats. I turn to Paul and ask him, "Who do I thank for this?, and why?" Paul answers, "They just do this sometimes, and what does she look like?. Referring to Randy. I explained that Randy is a he and not a she and that he is my son.
Randy, comes walking along seeing me standing there with this Usher, probably thinking, "What Now?". Then Paul takes our tickets and writes on them. We follow him down to our new seats, So Coool......... I see Richard, Betsy, Aly, Ben, and Maria, and we all just jump up and down, and give each other high five's, and hugs, we are "High" on "Journey Magic".
I actually believe these seats were better than any others in the arena. We were in the "BOX", where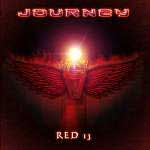 the Hockey team sits, and we had our own "Wall" to lean on, and we had room to Dance, and Party in the box. While everyone else was stuck in a row, with their chairs, our chairs were on the back wall, behind us, we didn't use them, we were too busy dancing.
Another surprise treat, Styx, Bass player came out into the audience and was playing/singing on a raised stand, Right in front of us, we could touch him. Ben, thought it was cool, because he also plays Bass. Maria, believes this is the real reason why they moved us, so they can have people their for him.......I say who cares we are here, and Rocken!!!!!!. We rocked out with Journey, and still couldn't believe what happened to us. I still don't believe it. Journey's songs,
"Faithfuly"


THE END